Lux Orthodontics – Amy Sklar Design Inc.
Lux Orthodontics – Amy Sklar Design Inc.
See how FENIX® innovative materials pair nicely with other surfaces in this luxurious pediatric orthodontics waiting room in Los Angeles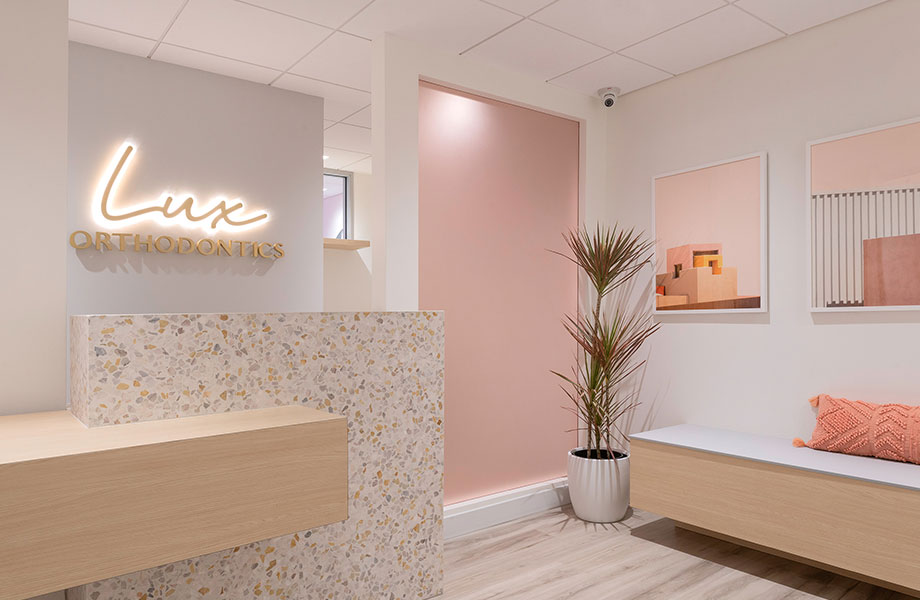 Amy Sklar had designed the home of Drs. Erin and Scott Cohen previously, so when it came to the remodel of Dr. Erin Cohen's office (Lux Orthodontics), she had a pretty good feel for the vibe that would be created.
"These are the most delightful, fresh, and cool people you will ever meet," said Sklar, who is the principal and owner of Amy Sklar Design Inc. "So even though this was a pediatric orthodontic office, we really wanted to match her whole aesthetic."
Taking color cues from the branding on Dr. Cohen's business card, the focal point of the waiting room is a custom terrazzo blend reception desk that features the company's blush, gray and navy palette. But when searching out a material for the floating bench tops, Sklar was thrilled to discover FENIX® innovative materials for the first time.
"FENIX was newly introduced to our studio, and I discovered quickly that this surface is unique and special," Sklar explains. "It's such a sophisticated material. It looks and feels both modern and fresh."
Sklar felt that the Grigio Efeso would tone beautifully with the terrazzo blend, but first she had to put it to the test.
"Any project you want to select surfaces that will wear well, but when it's commercial and medical at the same time, it's a whole other ball of wax," Sklar said. "We had a sample in the studio that we would just batter with coffee cups, grease and everything we could think of, and the FENIX material performed admirably."
Confident in its performance capabilities, Sklar specified 12mm Grigio Efeso FENIX for the bench top.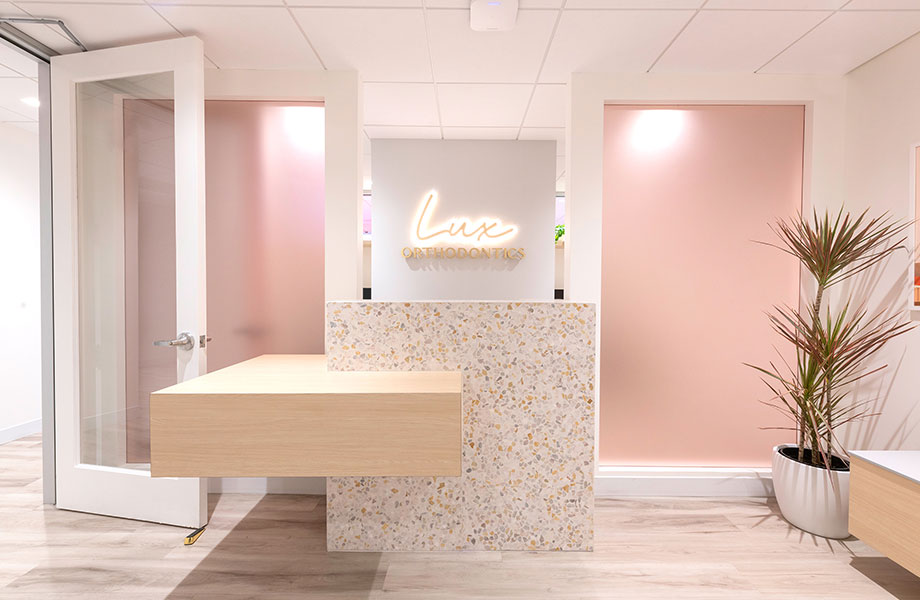 With two of the three main surfaces chosen in the waiting room, Sklar rounded out the surfacing choices by cladding the lower bench and reception desk with a brand she's been with familiar with for years.
"I knew Formica has a really good line of natural looking woodgrain laminates, so when we were seeking out coordinating materials, the Natural Ash laminate was a no-brainer," Sklar said. "We knew if we had done real wood, it would get dinged and wouldn't hold up, so we wanted the look and durability of laminate."
More importantly, the surfaces paired so well together that Sklar's goal of a fresh, cool environment was easily met.
"It doesn't even feel like an orthodontics office anymore," Sklar said. "With the custom terrazzo, FENIX and Formica woodgrain working in harmony, it feels more like a spa than a waiting room."
For more commercial design inspiration, check out our gallery.