Häagen-Dazs® Ice Cream Shops
Häagen-Dazs® Ice Cream Shops
Häagen-Dazs describes its work and products with adjectives such as creamiest, finest, and extraordinary. For a company that puts this much effort into making the perfect ice cream, it's no surprise that they have high standards for the look and feel of their retail environments as well.
Tim West is the Manager of Construction for The Häagen-Dazs Shop Company in the United States. When it came time to introduce a new design, he challenged his design partners to overcome two primary challenges.
"Our previous surfaces were so difficult to clean," West said. "You'd wipe them down and think they'd look okay, but as soon as the sun would shine on them, you'd see all sorts of smears and smudges. It wasn't good."
The second challenge had more to do with the setting, than the material itself.
"Many shopping malls where our shops are located don't allow laminate on front counters," West said. "So in addition to the cleanability, we had to find a material that would help us pass through mall specifications as well."
West found a solution for Häagen-Dazs with FENIX®, the innovative materials for interior design.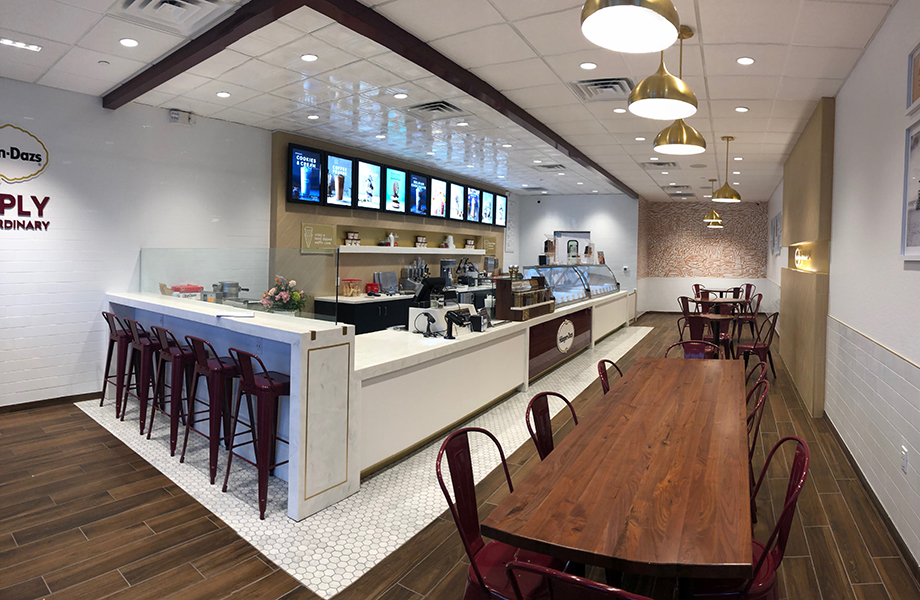 "Because FENIX isn't a traditional laminate, we're able to use it in every mall specification, and the cleanability could not be easier," West said. "Even in the high traffic areas at the checkout counter, it has stood up to scratches. And if it happens to get scuffed, we just clean it quickly with a magic sponge and it's as good as new."
Häagen-Dazs has used FENIX NTM® Grigio Londra for areas behind the counter and Bianco Malè on the front of the display case and checkout areas. They've paired FENIX with solid surfacing counters and back-painted glass to complete the stylish look.
West estimates that more than 100 Häagen-Dazs ice cream shops in the U.S. have FENIX, which is now part of the ongoing specification for any new builds or remodels.
"The FENIX materials have everything we need," West said. "It passes the spec with style and durability built in. We couldn't be happier with this material."
For more commercial design inspiration, check out our gallery.