Small Bathroom Design Ideas: How to Make the Most Out of Your Small Bathroom
Small Bathroom Design Ideas: How to Make the Most Out of Your Small Bathroom
Read our small bathroom design ideas guide to get inspiration, tips and tricks when remodeling your small bathroom.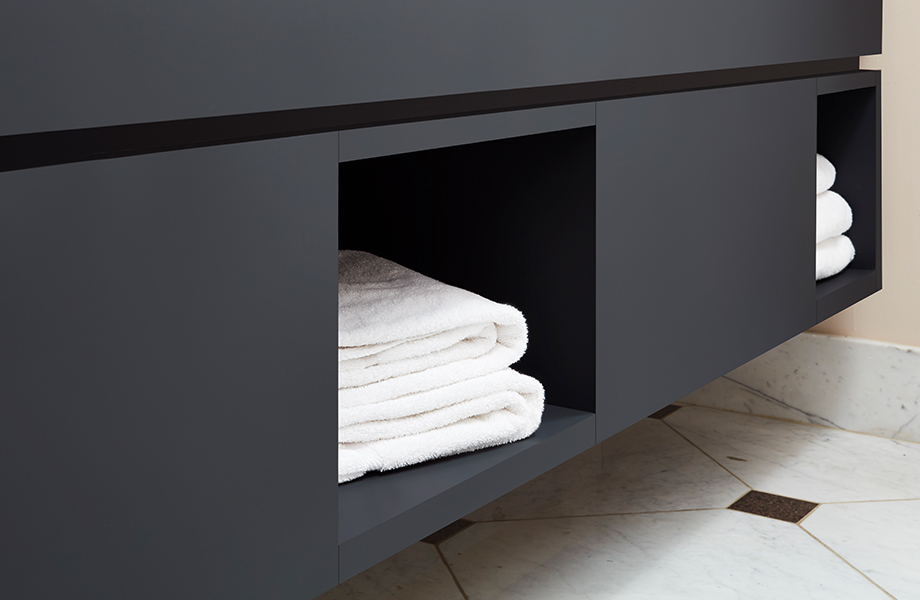 When it comes to remodeling a bathroom, we understand that not everybody is blessed with the luxury of space. Working with compact and sometimes even downright awkward spaces can feel tough when you're trying to design the bathroom of your dreams, but we're here to help. It's important, when designing a small bathroom space, to work with what you've got and not against it.

For example, adding a Crittall-style shower into a small corner can make the room seem so much brighter, while adding in a skylight can bring in some natural light and open things up. We have created an informative list of small bathroom ideas to give you inspiration, including tips and tricks on how you can make the most of your small bathroom by creating a space that is functional and luxurious, while using FENIX® innovative materials along the way.
Bathroom Space Savers & Storage
Our first tip when it comes to creating a bathroom that feels spacious and relaxing is to get creative with storage space. Here are some top tips and tricks to creating clever and handy storage spaces in your compact bathroom.
A shower niche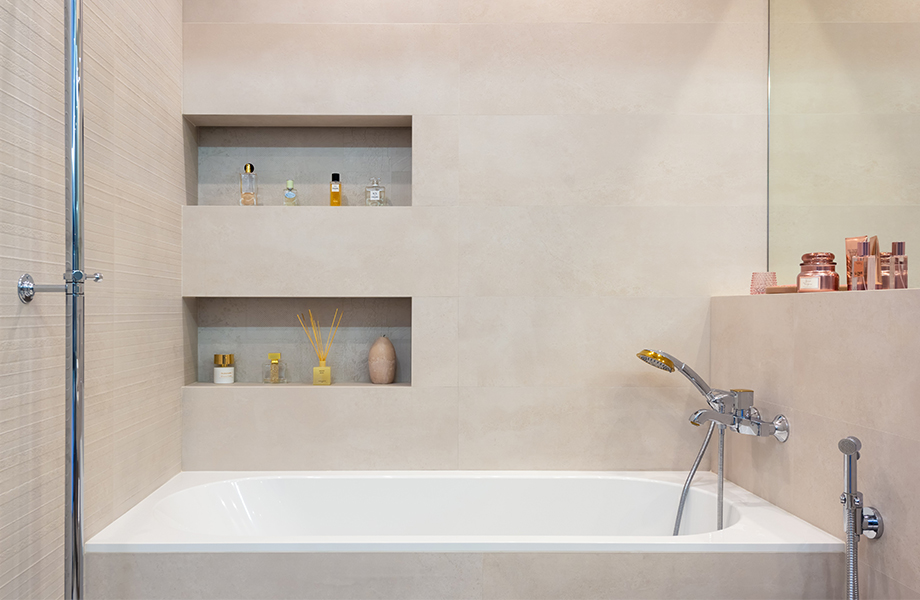 A shower niche is an easy, yet effective way to create more space in your bathroom. It's a place where you can keep all of your shampoo, conditioner and shower gel without having to invest in a shower caddy or extra cupboards. It's also super easy to include in your bathroom remodeling plans and cost effective, too!
Floating vanities
Floating vanities are a cool and interesting way to not only store all of your shower essentials, but to create more floor space, too. They can be custom-made to suit the size and shape of your bathroom and created with a range of different materials. Why not try out FENIX® innovative materials? Super matte, anti-fingerprint and available in multiple colors, they are the ideal option for your small bathroom remodel.
Keep things organized!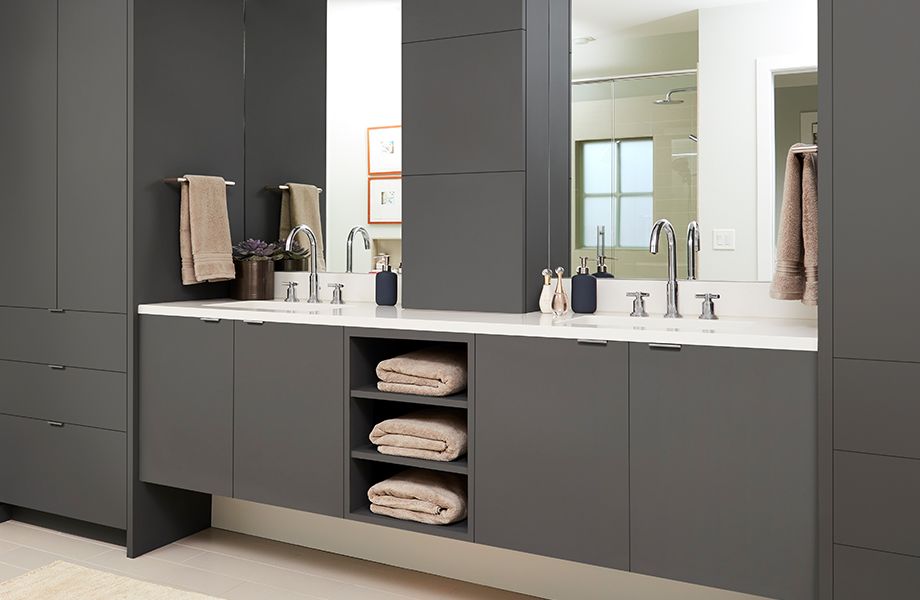 Keeping your small bathroom clean and organized is a sure-fire way to create the illusion of a bigger space. An easy way to do this is by creating a place for everything to be stored. For example, using trays and cabinets for storage so all of your everyday clutter is out of sight, with only a few decorative pieces on display for a luxurious touch.
False Wall Shelf
Creating a 'false wall' shelf in your bathroom can be a great way to not only hide all of the water pipes from the toilet and create a cleaner, more luxurious space, but it also provides a space to house any plants or decorative items you'd like on display.
Colors & Materials
Choosing a color scheme for your home can be difficult at the best of times. But when it comes to choosing a shade that's going to open up your small bathroom, the decision can potentially feel like make or break. Not to worry, we have compiled a list of favorite colors, popular trends and design ideas to help inspire your small bathroom.
Choose a light color scheme to brighten the room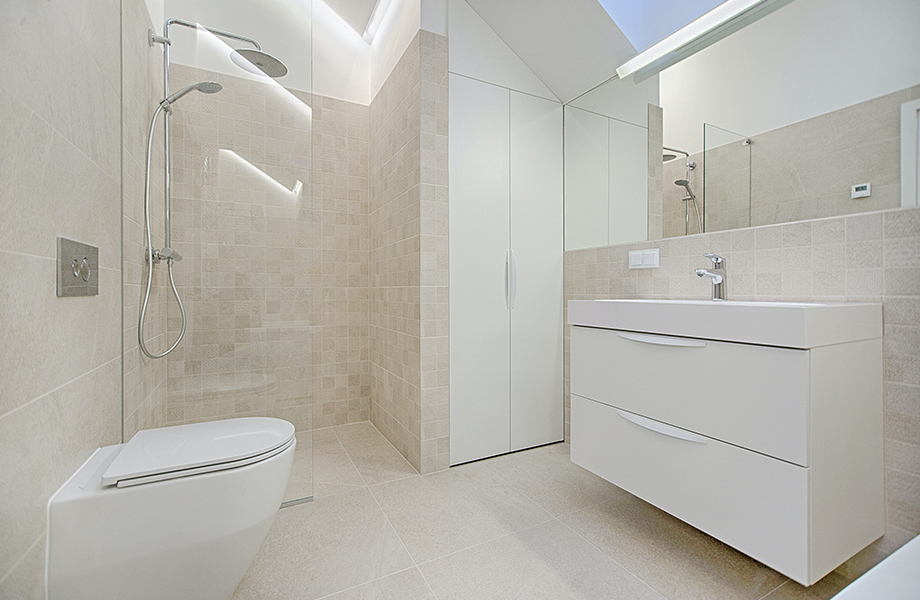 It's not uncommon to use a light color scheme when redecorating a bathroom, especially when it comes to making the space seem bigger and brighter. It is, however, important to get the shade right. Neutral, white and gray shades are all perfect for making spaces seem bigger than they are. FENIX offers a wide variety of neutral colors that are extremely opaque, soft to the touch and anti-fingerprint. Why not request a free sample?
Choose deep colors to create a cozy feel
Choosing deeper shades for your small bathroom, like black, navy or dark green, can actually create a warm, cocooning atmosphere that feels cozy rather than closed in. So although it may not open up the room the same way a lighter color would, it creates a soothing atmosphere to take a bath. You could also use contrasting materials, such as mixing matte and shiny surfaces to help give more depth to your space.
Color Drenching
Color drenching is a bold style of painting that has taken the interior design world by storm. It involves painting the whole room (including the ceiling) one shade. For smaller spaces in this instance, it could be beneficial to use a light reflecting color like white or neutral. But if you want to go bold like some interior designers are suggesting, why not try a vivid yellow or green?
Embrace Your Small Space
We understand that your small bathroom may not be what you had always dreamed of growing up. However, it can definitely be the easiest room in your home to use creative and unconventional design ideas to make the most of your small space.
Create a wet room
Wet rooms are a super sleek, modern addition to your bathroom. Although a big decision to make when it comes to remodeling, it is the perfect solution to lack of space as it provides an open layout that is super accessible, easy to clean, streamlined and not to mention, luxurious! If you're looking to bring that high-end, spa-like feel to your bathroom, a wet room is definitely a good option for you.
Shower Baths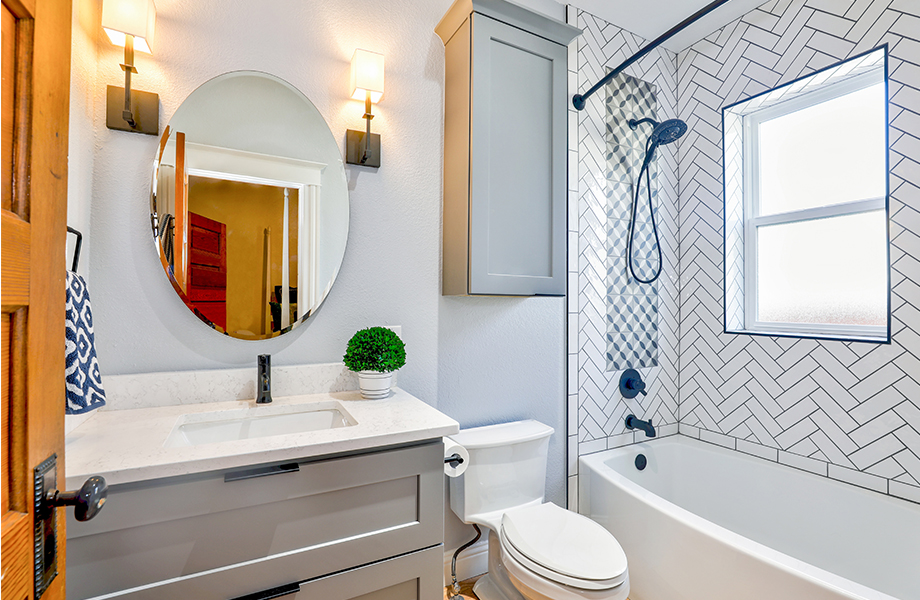 For a long time, shower baths have been an easy option when it comes to saving bathroom space. A two-in-one bathing solution, they come in all shapes and sizes - so you can find one to fit even the most awkward of bathrooms. Perfect for those looking for an easy, cost-effective way to save space.
Try out a freestanding bathtub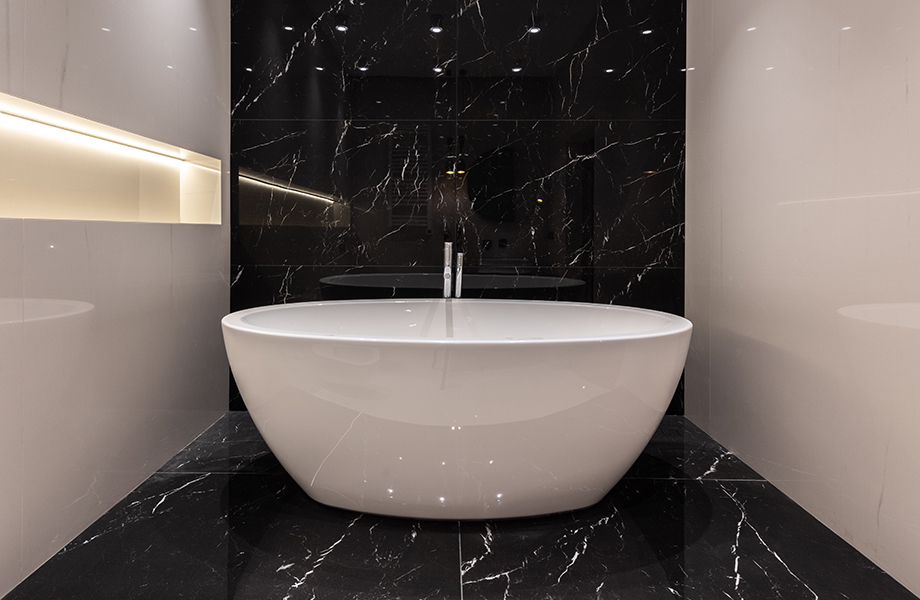 We know what you're thinking: how will a freestanding bathtub make the most of my space? Well, by making a bath the focal point of the room, it can make it seem grander and more luxurious. They also come in a range of different shapes and sizes, so you're bound to find one that will fit perfectly in your space.
Don't forget the finishing touches
Last, but definitely not least, finishing touches can really make your small bathroom design come to life. Whether you're creating an at-home jungle with plants or hoping to add some spa-like finishing touches for relaxing after a long day at work, the finishing touches are what really makes a room feel like home. Here are some ideas for adding a luxe finish to your small bathroom.
Scented Candles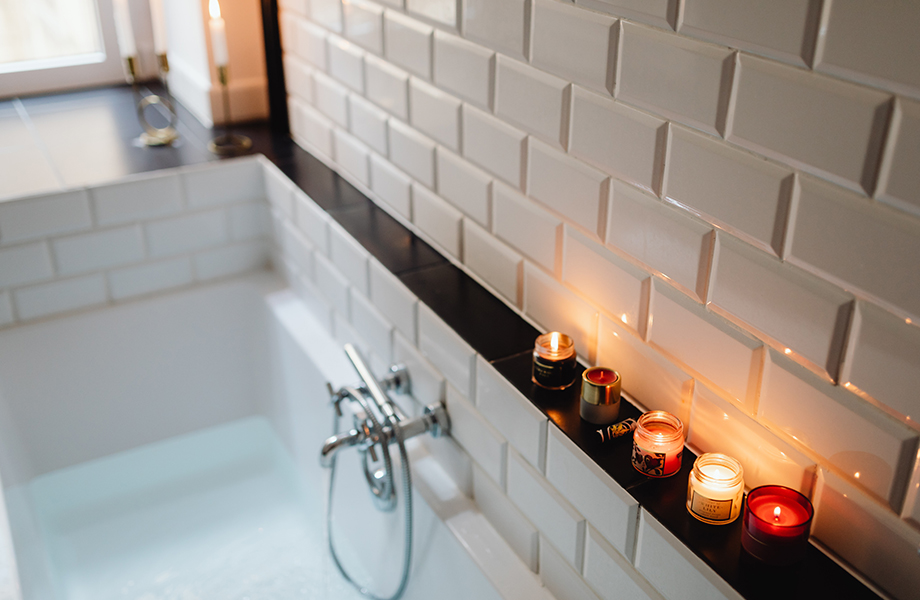 Candles are a cost effective and easy way of giving your small bathroom that luxurious, hotel look. Perfect for relaxing in the bath after a long day at work, or making the room seem cozy and put together when you have guests. Try soothing lavender or eucalyptus scents.
Decorative Mirrors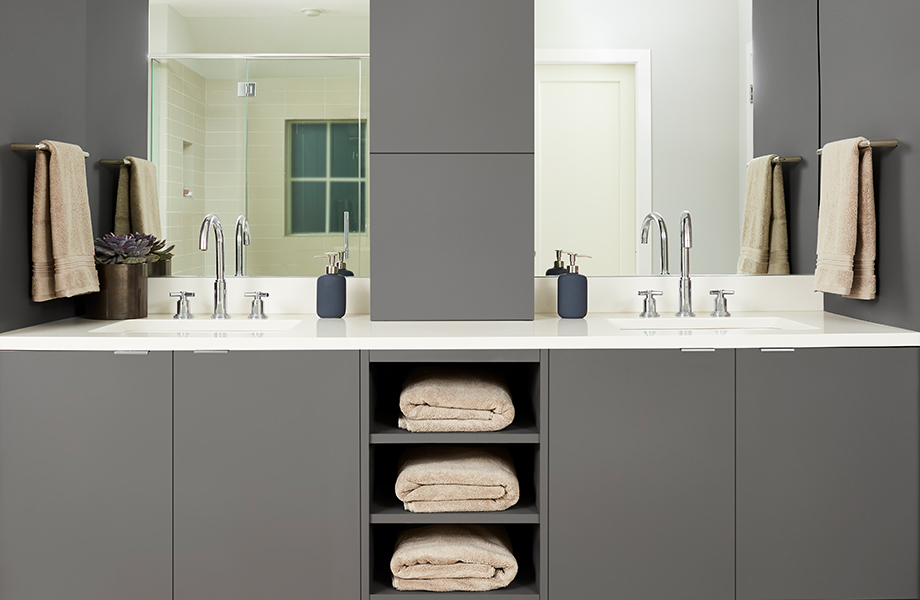 A mirror is the perfect accessory for a small bathroom. Not only is it super practical, but it also reflects light around the room, creating the illusion of a bright, airy space. Top Tip: why not create a wall piece of multiple mirrors? Not only will this reflect more light, but it will also add a bold finishing touch to the room.

We hope we managed to give you lots of inspiration for remodeling your small bathroom. For more information on where you can get your hands on FENIX NTM®, FENIX NTM® BLOOM or FENIX NTA® for your next home update, check out if there's a showroom near you today.
For more residential design inspiration, check out our gallery page.