What are the Best Kitchen Countertops?
How to Choose the Best Material for Your Kitchen Countertops
Choosing your kitchen countertops isn't an easy task. It's a place where you cook, eat, drink and spend time, so naturally, you're going to want it to be perfect. In an oversaturated market of materials, it can be hard to decipher what is going to serve its purpose in the kitchen best, so we've created a guide on some of the most popular surfaces, including FENIX® innovative materials, to help you choose the right kitchen countertops for your home.
FENIX® innovative materials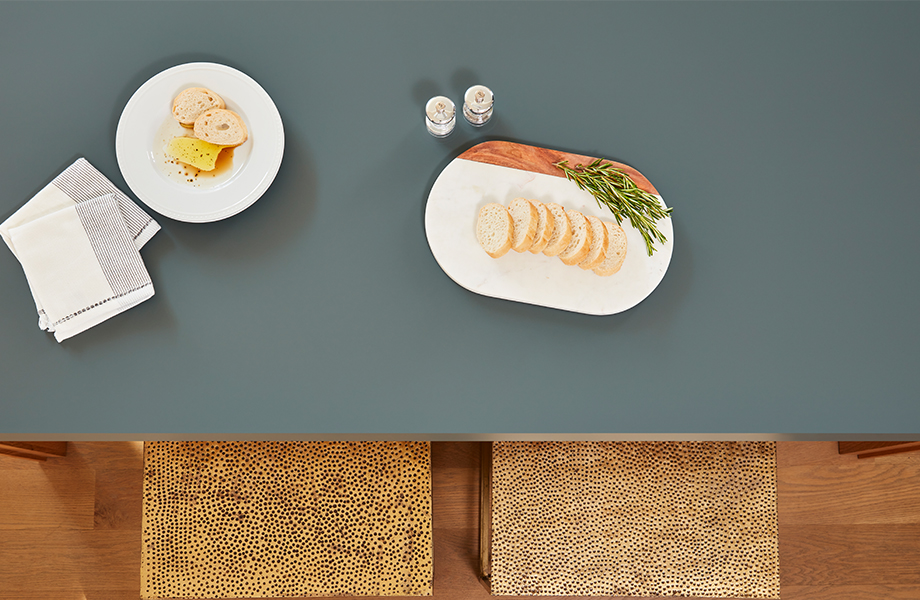 Made from paper and thermosetting resins, FENIX is home to smart, innovative surface materials that provide on-trend Italian design. With low light reflectivity, the FENIX surface is extremely opaque, soft touch and anti-fingerprint. As FENIX is a strong material, you can also use many household cleaners, making it perfect for messy kitchen environments!
FENIX innovative surface materials are available in a variety of colors through three different product lines, FENIX NTM®, FENIX NTM® BLOOM or FENIX NTA®, all three of which offer the usual surface properties expected from FENIX. Get your free sample and start your journey with FENIX innovative materials today.
Granite Kitchen Countertops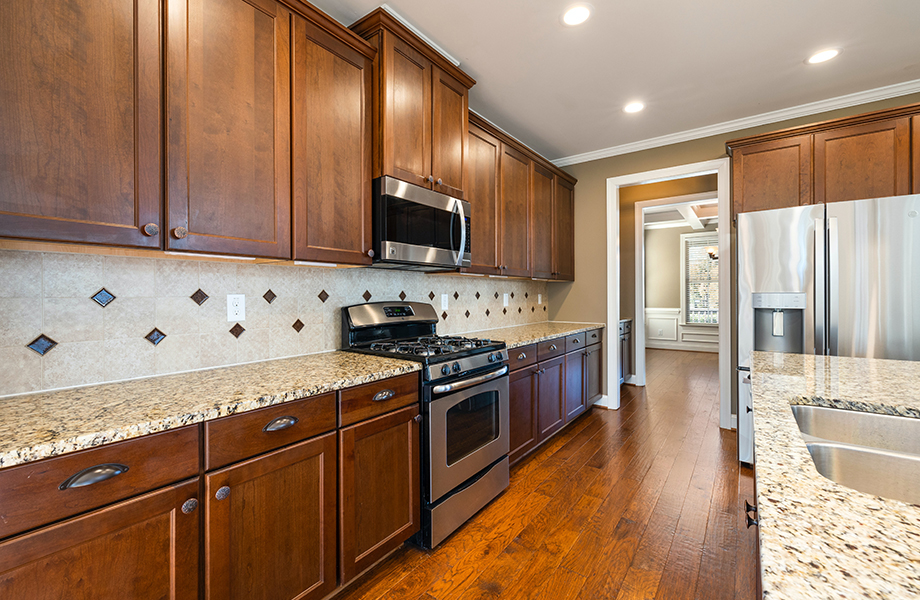 Granite is a popular option for kitchen countertops - and for good reason. Formed over millions of years by natural minerals, each piece of granite offers a unique look that's scratch-resistant, heat-resistant and hygienic thanks to its cool surface.
There are a few downsides of granite, too. Although easy to clean when sealed correctly, granite is porous, meaning that imperfectly sealed countertops can absorb spills and bacteria if you aren't on-top of your cleaning. It's also worth mentioning that granite countertops are quite high-maintenance and need to be resealed frequently.
Quartz Kitchen Countertops
Quartz is a popular choice for kitchen countertops thanks to its durability factor. A man-made material, it's crushed together with other surfaces to give it a unique and customizable look. It's nonporous, too, so you don't have to worry about spills and bacteria getting through and damaging the surface.
What are the downsides of quartz? It's more expensive than some other materials on the market, and quartz isn't completely heat-resistant, therefore you would have to be very careful where you put your hot pans!
Marble Countertops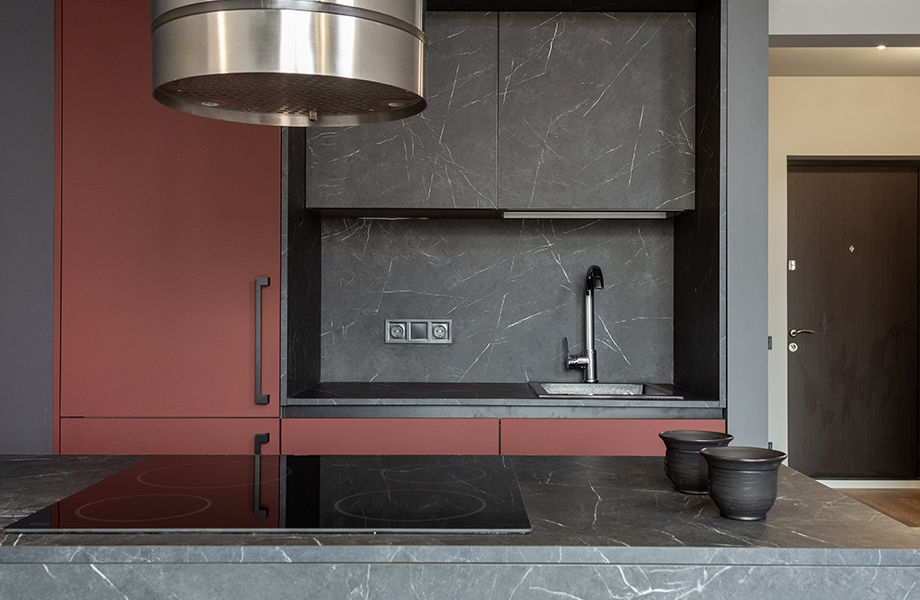 Marble is another sought-after option for modern kitchen countertops. Classic and super versatile, it's available in an array of shades and colorways, including black, gray and yellow. It's also heat-resistant and strong, making it a good, durable contender for a countertop.
There are some downsides to marble, however. Marble is prone to scratching and staining due to its porous nature and sensitivity to acidic solutions - so one to definitely think over if you have a big family kitchen where it's prone to spillage!
Hardwood Kitchen Countertops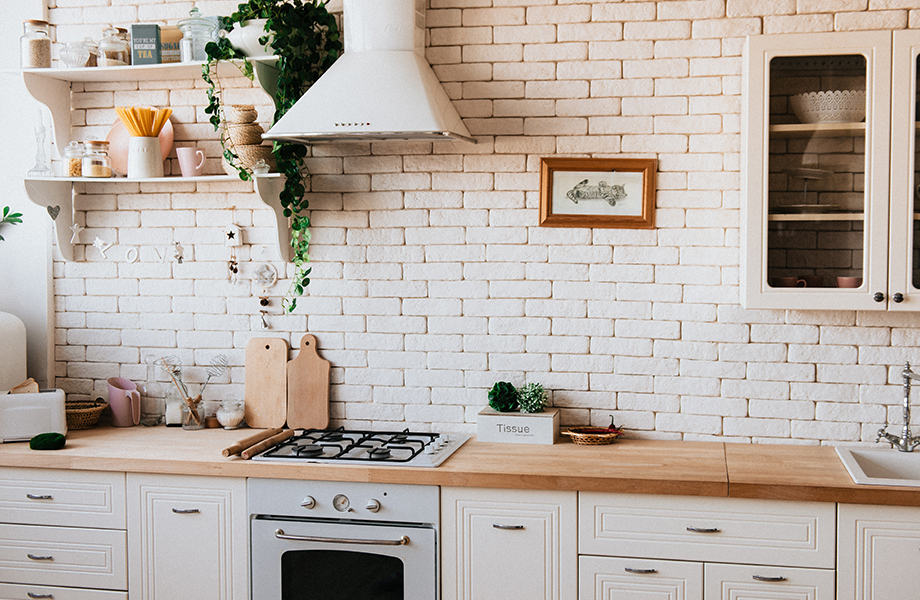 Hardwood kitchen countertops are a good option if you're looking to add a rustic, old-school feel to your home. More cost-effective in comparison to rival stone countertops such as granite and quartz, it's available in various shades and colorways and ages well due to its natural look.
However, hardwood can be a tricky one, especially if you live in a home with small children or teenagers. It can be easily stained and scratched, with spills having to be cleaned up pretty much immediately to avoid permanent damage. Despite hardwood needing to be maintained over time to look as good as new, features like scratches and wear can look authentic if you're hoping to achieve that simple, homely look.
Laminate Kitchen Countertops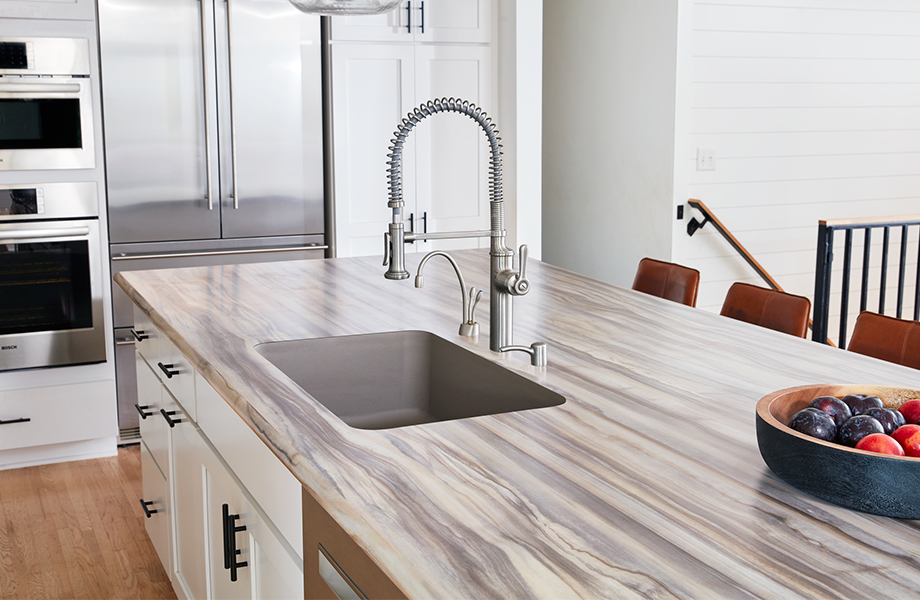 Laminate kitchen countertops have become increasingly popular over the years due to being cost effective and easy. A great option for any kitchen style thanks to its vast design opportunities, it's stain-resistant, easy to clean and the perfect DIY option - making it a great choice if you're on a budget or just wanting to give your kitchen a quick spruce up.
Laminate does have some drawbacks, however, such as peeling or burning on super hot surfaces. It can also have a shorter life span than other materials.
Have you decided on your ideal kitchen countertop?
Hopefully, this guide has given you some insight for your next kitchen remodel and helped you make a decision on the best kitchen counter material for you. Once you've made your decision, we also have some inspiration on how you can organize your kitchen countertops.

For more information on the different FENIX® innovative materials we offer and how they can transform your kitchen, check out our about page. And while you're there, why not order a free sample?