How to Organize Your Kitchen Countertops
How to Organize Your Kitchen Countertops
Looking for kitchen inspiration? Read our helpful guide on how to organize your kitchen countertops.
For most people, a kitchen is a place to cook, relax and have some quality time with friends or family. But when faced with clutter, it can become a chaotic and unhomely environment to be in. Does this sound familiar? Not to worry, we have created a guide containing innovative, easy and fun kitchen countertop ideas to enhance your kitchen experience and create a soothing place you're proud to call home.
Keep Your Countertops Clean and Minimal
The first (and most simple) tip is to keep your countertops as clean and minimal as possible. We understand that space isn't always a luxury everyone has, but keeping only your everyday essential items stored on the countertops can create a much calmer environment. Instead of storing everything from air fryers to slow cookers on the countertop, make a list of items you use every day and keep those on show, like the coffee machine. Then with the rest of your bigger, bulkier appliances, pop them in cupboards or other storage solutions and only take them out when needed. You'll be surprised at just how much this small tip will open your kitchen and make it feel clean and organized.
Get Creative with Kitchen Countertop Decor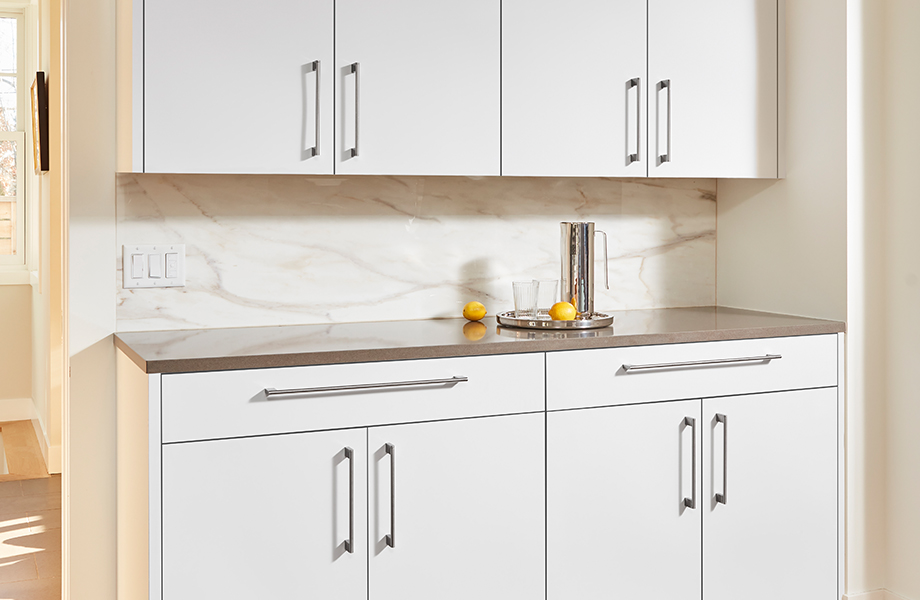 Believe it or not, organizing your kitchen countertops can actually be fun! It's a good time to get creative with decor and find interesting ways of storing things that can also look like a cool display. Why not try adding a fresh bunch of flowers to your counters every week? Or use decorative trays and pots that fit in with the theme of your kitchen to create a cozy, homely environment. For more ideas, we recommend scrolling on Pinterest, or checking out TikTokers like Andrea Perez and house.attract who have made quick, snappy videos on how you can revitalize your kitchen countertops on a budget.
Utilize Glass Jars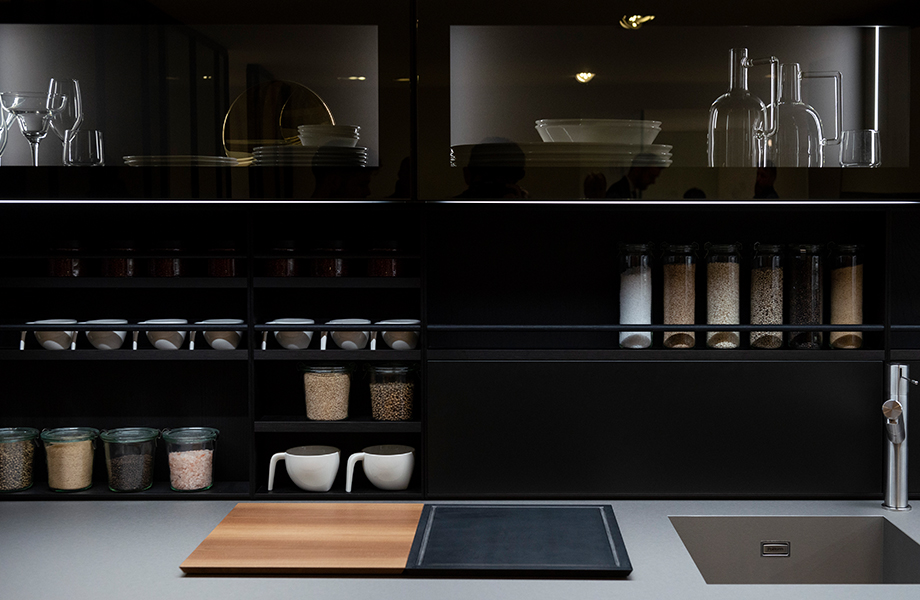 Wondering how to decorate your kitchen countertop? Using mason jars is not only a cheap and easy way to store things on top of your kitchen countertops, but it also adds a decorative element to them. Glass jars come in all shapes and sizes and are perfect for storing the likes of pasta, coffee pods and cookies. If you really want to go all out, you can also purchase a label maker to neatly name all of your jars and make your kitchen space even more organized. For additional inspiration on the glass jar trend, check out hampshire home trends on TikTok to see how they have used it to make the most of their kitchen space.
Make the Most of Your Shelves and Cupboards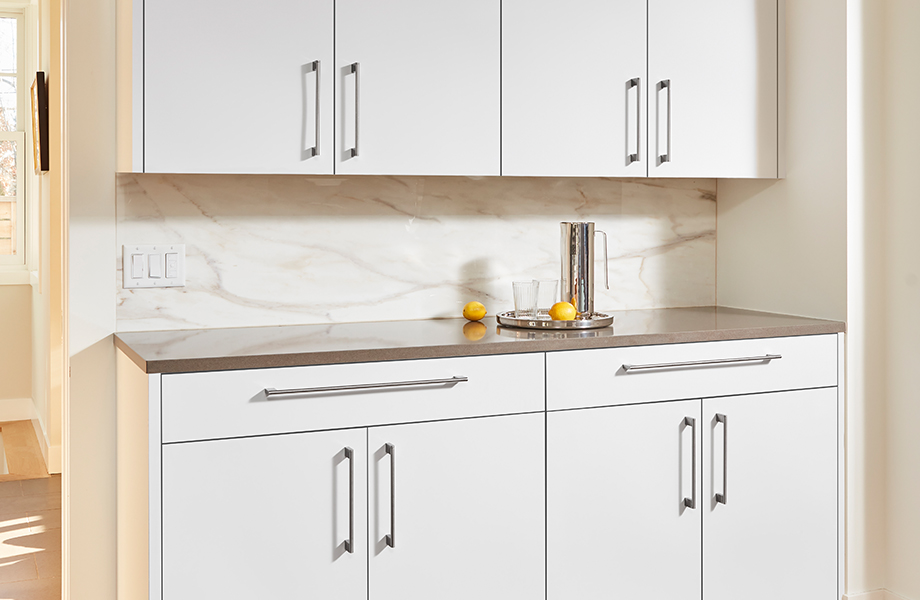 This may seem like an obvious one, but making the most of your kitchen space is essential in order to keep your kitchen countertops clean and organized. For example, if you have a lot of cupboard space, it's important to keep the insides clean and organized to allow optimal storage space for all your larger kitchen appliances, like that trusty air fryer you can't quite live without but don't want to have to look at every day, either.
Don't have any cupboard space left? Not to worry, there are other ways to store your kitchen essentials without cluttering up the countertops. Why not try building shelves just above to create a spice or utensils rack? Or alternatively, attach some hooks to the wall to hang your pots and pans on. Not only is this a cost-effective storage solution, but it also adds a rustic feel to your home.
If you're looking to invest in some kitchen cupboards to create more storage space in your kitchen, FENIX innovative materials are a stylish, trustworthy option. At the forefront of Italian design, all of our materials are extremely opaque, soft touch and anti-fingerprint.
Have A Weekly Declutter
At first glance, this may seem a bit excessive, but you'd be surprised at how much clutter builds up in your house daily, especially in the kitchen. Whether it's keys lying about, ingredients you aren't going to use, or appliances left out on the counter, sometimes all that's needed is a bit of a refresh. So when you're doing your weekly (or bi-weekly, we're not judging) house clean, we recommend giving your kitchen countertops a bit of a declutter. You'll be surprised at the difference it actually makes to your space.
We hope you found this guide helpful, and gained some creative ways to keep your kitchen countertops clean and clutter free. For more information on FENIX and how our innovative materials can transform your kitchen, check out ourabout page and order your free sample today.