Home Office Design Ideas for Your Next Remodel
Home Office Design Ideas for Your Next Remodel
Redecorating or redesigning your home office? Check out our guide on how you can make it a modern, productive space online with FENIX today.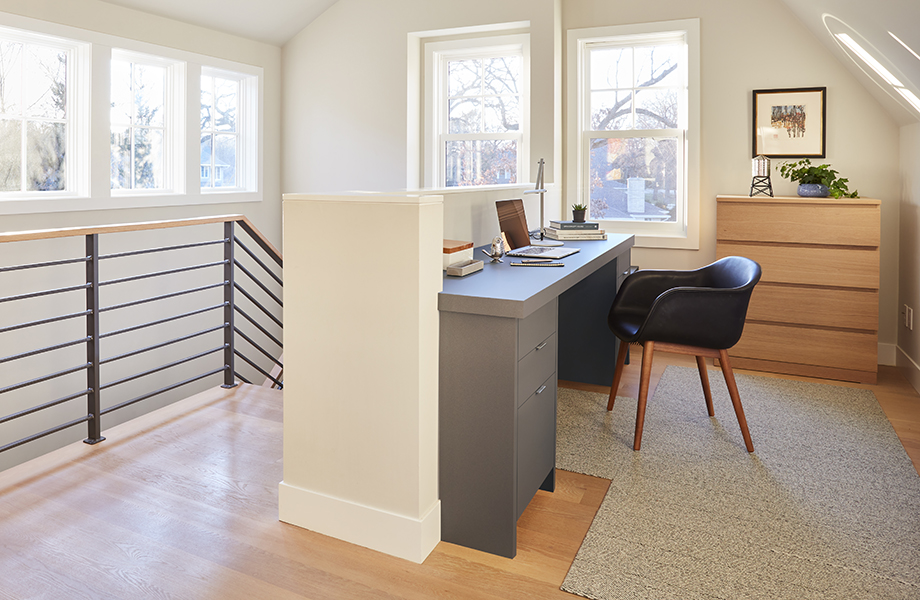 During the pandemic, a large percentage of the nation were sent to work from home for the foreseeable future due to restrictions. And despite its unfortunate disruption to the fast-paced nature of normality, it did bring about a new, flexible way of working that many companies have carried on into post-pandemic life.

In a survey of 25,000 Americans, 58% of participants were able to carry on working from home at least one day a week, with 35% of that statistic offered full-time remote working. This has led to a spike in customers using our innovative surface materials to design a home office that's sleek, modern and most of all, productive.

With home offices being a newer concept for many people, it can be difficult to know where to start. We've compiled a list of sleek and contemporary home office design ideas to help you create an environment that allows you to work creatively and efficiently.
Modern Home Office Ideas
A quiet, airy space is the perfect working environment. Here are three tips for designing a modern home office space you'll love.
Invest in some bookshelves
Use FENIX NTM® to manufacture wall to wall bookshelves that make an open, yet studious office atmosphere that's ideal for escaping the many distractions within your home. Super matte and anti-fingerprint, FENIX is a durable material to help you design the focal point of your home office.
Keep things minimal
If a bookshelf isn't your thing, there are plenty of other ways that you can create a spacious, modern home office that's guaranteed to help you reach all of your goals.

Why not try placing a simple desk in front of the window to let in natural light and keep you motivated? Or for a more cost-effective approach, you could create a minimal environment that consists of only a few essentials, such as a chair, a singular desk, a laptop (of course) and some storage to keep your paperwork and essentials neat and organized. FENIX® innovative materials are ideal for crafting desks because they are soft touch and anti-fingerprint.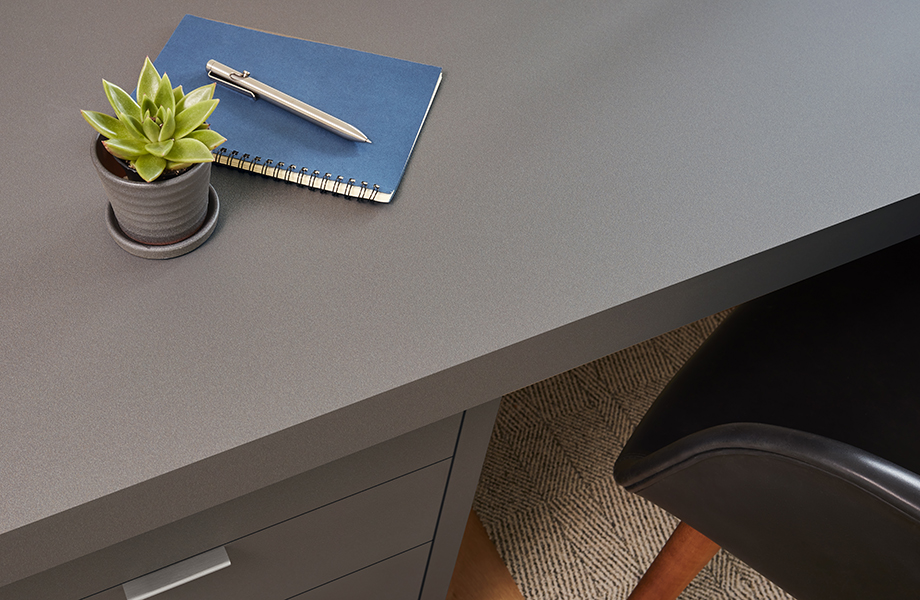 Add a Mid-Century touch
Despite its roots dating back to the 1940's, Mid-Century design has become an interiors phenomenon that has crept its way into the 21st century with its functional, no-fuss design. Why not try geometrical shapes, a curved sofa or even the famous Eames Chair in your next office remodel?
Small Home Office Ideas
With remote working still being a relatively new concept, we understand that not everybody has ample space in their homes to dedicate to their job. That's why we have come up with our best hacks for making the most of a small home office.
Get creative with the layout
When faced with small and awkward spaces, it can often be overwhelming to know where to start. Take a creative approach to your home office layout. For example, why not try out an 'L' shaped desk to save on space? Or invest in wall lamps that leave more room on your desk for the important stuff, like paperwork and your morning coffee.

Another tip we have when it comes to designing your office layout is to put shelving in unconventional places, such as hiding in little nooks or placed above your desk so they're easy to reach and all in one place. For this, use FENIX NTM®, FENIX NTM® BLOOM or FENIX NTA®. Their soft touch and anti-fingerprint properties are perfect for designing sleek shelves that will provide functionality in your small office space.
Utilize unconventional spaces
When it comes to making the most of your space, we can all take some notes from Harry Potter. Turning your neglected utility cupboard into a small home office can provide you with a quiet place to work free from distractions. Not only this, but once you close the door, you can completely switch off for the day. Perfect for retaining a work life balance. After scrolling through TikTok, we were inspired by @grillodesigns' cool revamp of the cupboard under her stairs, transforming it into a handy place to work throughout the day.

Other places we've discovered make great workspace solutions include a nook inside or outside your wardrobes, or even transforming your dresser into a corporate haven throughout the day. Not convinced? Check out TikTok creators @ourhavenfarmhouse's fun little space in their closet that they've playfully renamed a 'cloffice'.
Choose your storage wisely
When working with a small office space, you may not have the capacity for large cupboards or chunky desks. Instead, we recommend looking into alternative approaches to storage, such as hanging pots, pin boards and magazine racks. Contemporary and cost effective.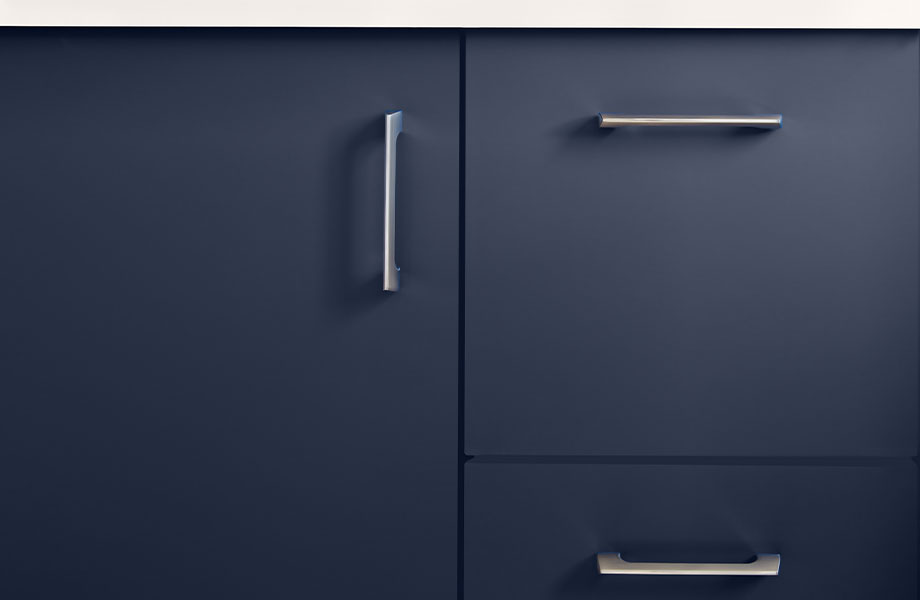 Let your personality shine through
When planning to design a home office you're going to love, it's important to put your own stamp on it. It is yours after all. A good home office space should be somewhere that inspires you, motivates you and pushes you towards success. If you're lacking in ideas at the moment, not to worry, we have created a list of home office decor ideas to help get your creative juices flowing.
Add some wall art
When it comes to adding some character into your home office, wall art is a good place to start. Plaster your walls with inspirational quotes to cheer you on throughout the day, or choose some prints from your favorite artists and musicians to make it a space you want to spend your time in. After all, one of the benefits of remote working is feeling more at home.
Add a splash of color
We all know the color and shade of a room can really set the tone of how you feel while you're in there. Add a splash of your favorite color into your home office to display a happy, vibrant atmosphere. This could easily be done with a lick of paint, or by using vibrant furniture. Why not check out the colors FENIX have to offer in their innovative surface materials and get your free sample today?
Add some happy memories!
It's the norm to have a picture of your family or pet at your desk in the workplace. So it's a good idea to translate this into your home office, too. Having fun pictures of a loved one or happy memories can definitely motivate us to work to our best ability throughout the day.