Cleaning Fenix<sup>®</sup> Surfaces
Taking Care of FENIX Means Taking Care of its Structure
If you look at FENIX through a microscope, you will see the structure that causes light to reflect at a variety of angles. This is responsible for what we recognize as a matte appearance. To clean the structure, an essential step is rinsing regularly with water as it avoids that anything stays behind in it. In this section, you can find some simple but important guidelines to help you care for your FENIX surface.
Have something specific in mind? Scroll down to find more information on these topics:
Basics of Cleaning
The Do's and Don'ts of Cleaning FENIX Surfaces
Stain Specific Cleaning
Deep Cleaning
Is your matte surface FENIX?
Before following these instructions, please verify whether your matte surface is FENIX. Be aware that not all similar-looking matte surfaces have the same resistance to cleaning liquids. When in doubt, the supplier of your piece of furniture will be able to clarify if it is FENIX.
The Basics of Cleaning | FENIX®
Cleaning FENIX means cleaning its structure. You can do this with warm water. As FENIX is a strong material, you can also use any household cleaner – even solvents like acetone* if needed. However, to avoid damaging the structure, don't scrub it with abrasive cream, a scouring pad or a hard brush; in the long-term, this might lead to a glossy spot on your matt surface. Instead, you can use a melamine sponge – also known as a magic sponge.
As a final step, to avoid anything staying behind in the structure – whether that's dirt or residue from your cleaner – always rinse afterward with warm water and wipe dry with a clean cloth.
*always follow safety instructions
Need more information? Call 1-800-367-6422.
---
The DO's and DON'Ts of Cleaning Fenix Surfaces
DO's
Use any household cleaner or just warm water
Always end by rinsing with warm water
Dry with a clean cloth to avoid limescale residue
Don't use abrasive cream
Don't use a scouring pad or hard brush (you can use a melamine sponge)
Stain Specific Cleaning
Want to learn more? See below for stain specific cleaning videos and find all of our cleaning videos on our YouTube channel.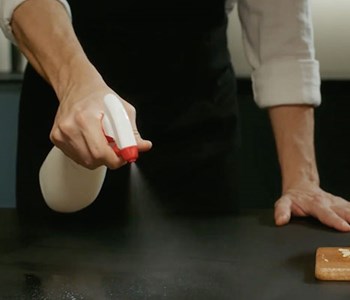 How to clean FENIX® | Oil
Was an oil stain left behind after cooking? See here how to clean your FENIX matte surface.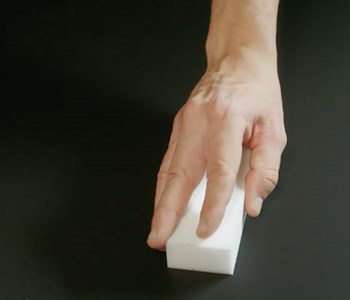 How to clean FENIX® | Wine
Absorb the wine stain from your FENIX matte surface, clean with kitchen degreaser, rinse thoroughly, and dry.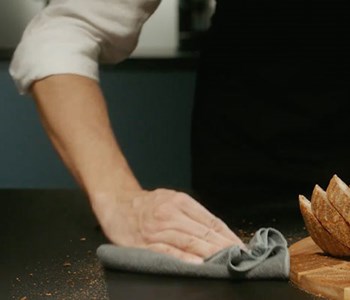 How to clean FENIX® | Ink
How to remove an ink stain from your FENIX matte surface. Watch this video to see the right way to clean it.
Deep Cleaning
It doesn't happen often, but if you have not regularly cleaned your FENIX surface correctly over time, dirt from multiple sources can build up inside the microstructure and cause it to change appearance. Find out more on how to care for your FENIX surface below.
What you need:
Warm water
A kitchen degreaser
A limescale removing cleaning liquid
A melamine sponge (also known as magic sponge)
Clean cloths