Pros Of A Matte Kitchen Design
Pros of a Matte Kitchen | FENIX For Interiors
Thinking about a matte kitchen design? We've weighed up all the pros for you to consider before you take the plunge. Order your free FENIX sample today.
Pros Of A Matte Kitchen Design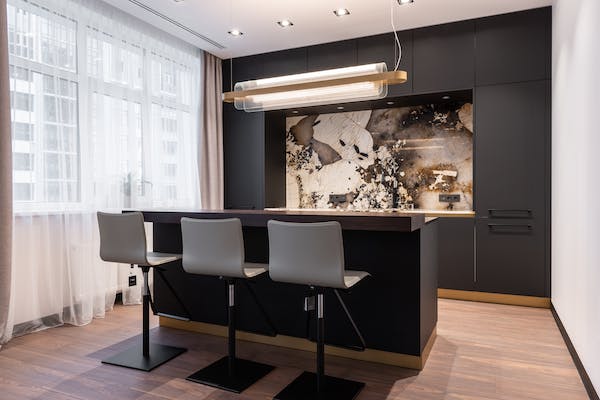 Choosing the design of your kitchen can be a difficult process. There's so much to think about, what appliances you're going to buy, what flooring you're going to choose and most importantly, what kind of materials you're going to use for your cabinets and countertops. If you're struggling to choose, we're here to help. We have compiled a list of all the pros of having a matte kitchen to help you make an informed decision. Not only this, we've also included some tips on how you can use FENIX's innovative materials along the way.
They Add A Contemporary Touch To Your Home
Matte kitchens are definitely considered cool, modern and chic in the interiors world. In fact, not only will a matte kitchen bring a contemporary look to your home, it will also add a soft, subtle look that's both calming and easy to style. In addition to this, matte kitchens are also super smooth and can provide an understated elegance that you would not get with a glossy kitchen. If you're looking for on trend, matte innovative materials to use in your home, you should definitely consider FENIX. We have plenty of colors and materials to choose from that are durable, soft to the touch and easy to clean. Perfect for homes with big families, or even commercial spaces like offices. Order your free sample today!
They're Easier To Clean
Matte kitchens are known for being a lot easier to clean than a glossy finish kitchen. This is because any scratches or smudges are a lot less prominent due to the way light reflects on the surface, as a matte surface absorbs light rather than reflecting it. In addition to this, matte surfaces are also less prone to fingerprints and abrasions in comparison to other materials. Renowned for on-trend Italian design, FENIX offers three different types of innovative materials that can be used to make super matte kitchen cabinets, countertops and more. Fingerprint, scratch resistant and easy to clean, they're an ideal choice when it comes to designing a matte kitchen. There's plenty of colors to choose from, too. Why not get a free sample today?
They Can Be More Affordable
High-Gloss finishes such as acrylic can be extremely expensive to fit in your kitchen, while matte kitchens tend to be a little bit lower in cost. This doesn't mean your kitchen can't look expensive, however. In fact, all matte kitchens are an extremely popular design choice. Why not try a super sleek matte black kitchen to add a dark, sophisticated touch to your home? Or alternatively an all gray matte kitchen if you're more into neutral designs.
They're More Versatile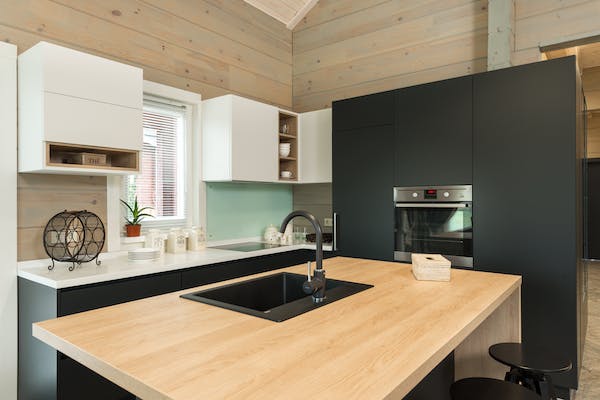 Matte kitchens tend to be a lot more versatile than the likes of glossy kitchens. This is because glossy kitchens tend to work better with lighter shades, while matte kitchens can work with both neutral, dark and bold colorways. Alongside this, it's much easier to mix and match colourways if you want to create a more monochrome space. Using matte materials in your kitchen design also means that it's much easier to switch up what colors you paint the kitchen throughout the years without having to get brand new cabinets and countertops to match, reiterating the fact that they're more cost effective, too.
Why Choose FENIX?
If you've decided on a matte kitchen, deciding on where to get your materials from can be a struggle all on its own. We're here to tell you why you should consider FENIX in your kitchen design. FENIX satisfies the need of two design trends, one being smart innovative materials, and the other being a surface that is extremely matte, soft to the touch and fingerprint resistant. Not only this, but FENIX materials have also undergone years of research and development from a group of scientists and engineers to ensure that they are the best materials possible on the market. You can check out the about page to find more information about FENIX materials and what each of them has to offer and you can also order a free sample to see exactly what we're all about for yourself.
We hope you found this guide to the pros of a matte kitchen useful. Our FENIX NTM, FENIX NTM BLOOM and FENIX NTA promise to deliver on-trend Italian design and durability, every time.