Nordic Design Collaboration
Nordic Design Collaboration
When Nordic Design's Catherine Lazure-Guinard began her home kitchen renovation, she got creative with her approach to maximize the aesthetic and minimize costs. FENIX NTM® + IKEA cabinets made it happen.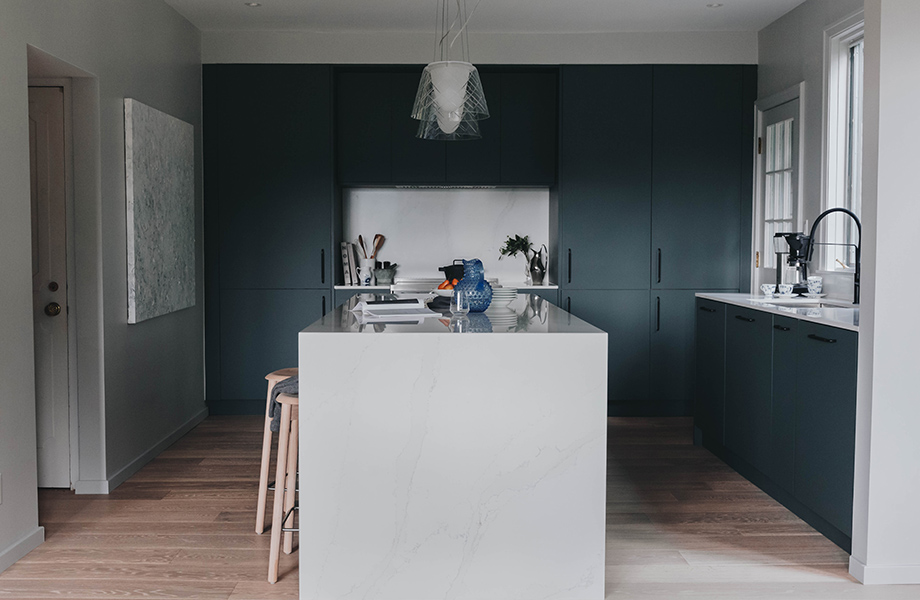 Quebec-based design influencer Catherine Lazure-Guinard, the founder and editor of Nordic Design, was ready to tackle a kitchen remodel—with clear goals in mind.

Not only did she seek to install new counters, flooring, cabinets and appliances to create a modern setting, but she also needed cost-effective components that could stand up to the busy days of an active family.

To steer clear of cookie-cutter kitchen aesthetics, Lazure-Guinard brought in cabinet manufacturer Kitch, which paired IKEA cabinet structures with FENIX NTM® door panels in Verde Comodoro, a matte green color.

"Choosing FENIX™ for our kitchen remodel was a no-brainer for us. Fingerprint-resistant, durable, ultra matte, beautiful colors to choose from…it allowed us to get a designer look that is also family-friendly and liveable," Lazure-Guinard said.
FENIX NTM® features a smart material that is anti-fingerprint, highly resistant to scratches and to mold. The matte appearance and soft feel were bonus benefits that supported the use of FENIX products on this project.

Kitch used FENIX materials for the front and side panels of the cabinets. Kitch's products come pre-sized and ready for installation, which minimized fabrication requirements.

The color and shape of the elements work together to create a classic, yet versatile space for this design-savvy family. The Verde Comodoro hue anchors the edgy, modern look while remaining true to the appearance of the rest of the house.

As she states on her website, Lazure-Guinard originally wanted a black kitchen, but found herself drawn to the deep green color.

"We were drawn to that muted shade that transforms beautifully with the light, and that reminds us of the surrounding nature. It gives a modern and edgy look to the space, while still being in character with the rest of the house. It has personality, but it is also classic and versatile," Lazure-Guinard said. "The color scheme indeed gives us flexibility when it comes to faucet and hardware. We now opted for black, but in a few years, we can change it up for brass, chrome, wood or oiled bronze, and it will still look great. Longevity of the design, its ability to age well, was very important to us."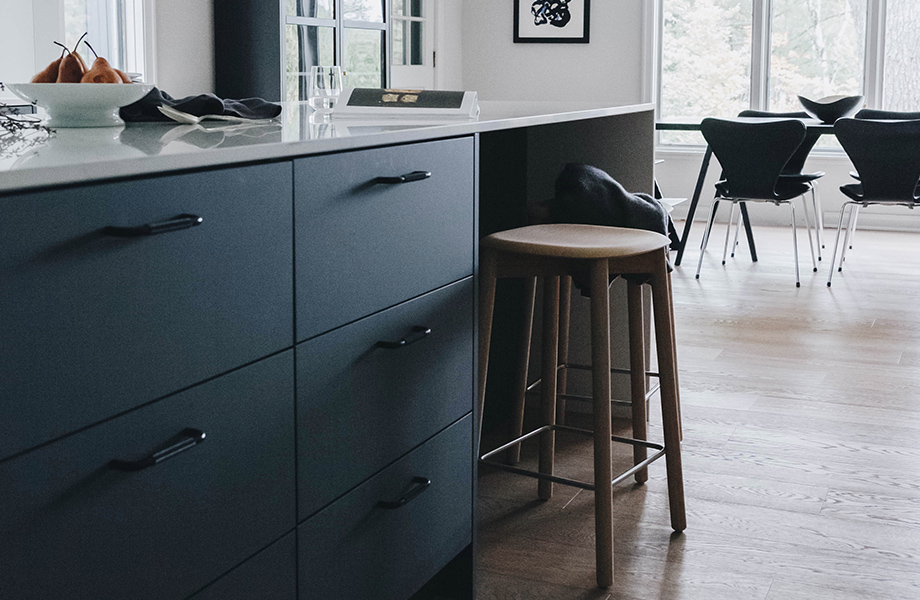 Leveraging the premium FENIX materials in combination with the cost-effective IKEA cabinet structures allowed Lazure-Guinard to make the most of her budget and freed up funds to invest in the quartz countertops, statement-piece cooking range, and hardwood floors.

FENIX was a perfect fit for this family's busy lifestyle and will provide a beautiful, durable kitchen for years to come.

For more residential design inspiration, check out our gallery.