How To Choose The Best Countertops For a Commercial Kitchen
What Are The Best Countertops For a Commercial Kitchen?
FENIX, stainless steel or concrete? Use our guide to find out the best commercial kitchen countertop surface for you. Get your FREE FENIX sample today.
How To Choose The Best Countertops For a Commercial Kitchen
Choosing the right surface materials for your commercial kitchen countertops isn't always an easy task. With certain regulations and requirements for commercial kitchens, it's important to choose the best fit for your business. It can be hard to decide which material is going to serve you best in a commercial capacity, so we've created a guide on some of the most popular and best commercial kitchen surfaces, including FENIXⓇ innovative materials, to help you choose the right commercial kitchen countertops for your business.
Consider What Activities and Requirements You Have
When choosing your commercial kitchen countertops, you need to consider what your day-to-day activities are. For example, you will most likely be doing a lot of food prep activities on the surface itself and therefore will need a surface that is stain-resistant or easy to clean. Whether you need an integrated sink is also a key consideration.
In these instances, you may want to avoid surfaces that chip or scratch easily, or ones that don't allow for an integrated sink if you decide you need one.
FENIX Innovative Materials For Commercial Kitchen Countertops
Made from paper and thermosetting resins, FENIX is home to smart, innovative surface materials that provide expertly crafted Italian design. Not only is it extremely matte, soft to the touch and finger-print resistant, it also has a unique, non-porous layer that means it is highly resistant to scratches, abrasion, acid-based solvents and household cleaners. Perfect for making the upkeep of your commercial kitchen super easy.
FENIX materials are available in a variety of colors and designs. Our three different product lines NanoTech Matte (NTM), Nanotech alloy (NTA) and NTM Bloom, offer the usual surface properties expected from FENIX but with their own unique benefits. Get your free sample and start your journey with FENIX innovative materials today.
Natural Stone Slabs For Commercial Kitchen Countertops
Natural stone slabs are a group of materials that include granite, marble and soapstone. Granite is a popular option for home kitchen countertops due to its unique look that's scratch-resistant, heat-resistant and hygienic. This means it could also make for a popular surface in commercial kitchens if your cooks were to sit a hot pan, or chop ingredients on the countertop. Granite is porous, meaning that imperfectly sealed countertops can absorb spills and bacteria, something your health and safety inspector may not appreciate.
Marble is another sought-after natural stone slab for kitchens, especially in businesses such as bakeries. Classic and super versatile, it is perfect for baking, or making fresh pasta too. However, in order to keep it heat-resistant and scratch-free, it'll need regular re-sealing which can be time consuming and costly for a commercial kitchen.
Soapstone makes for a beautiful kitchen countertop, that's both aesthetically pleasing and environmentally friendly. Ideal for kitchens as they don't stain or crack, and are known to be durable and are non-porous so don't require regular resealing. They are also heat-resistant so hot pans won't leave a permanent mark.
It does however cost a lot compared to other surfaces, so if you're on a budget, it may not be best for you. Soapstone is also prone to lots of scratches, even a drop of a spoon on the surface can scratch it, so don't chop your vegetables on it.
Engineered Stone For Commercial Kitchen Countertops
Engineered stone is often the most preferred countertop for commercial kitchens. Engineered countertops are made mostly from natural quartz which is a popular choice thanks to its durability factor. It's non-porous, so there's little chance of spills and bacteria getting through and damaging the surface.
Unlike some other materials on the market, quartz isn't completely heat-resistant, meaning you would have to be very careful where you put your hot pans, which, in a commercial kitchen, isn't something you want to be worrying about.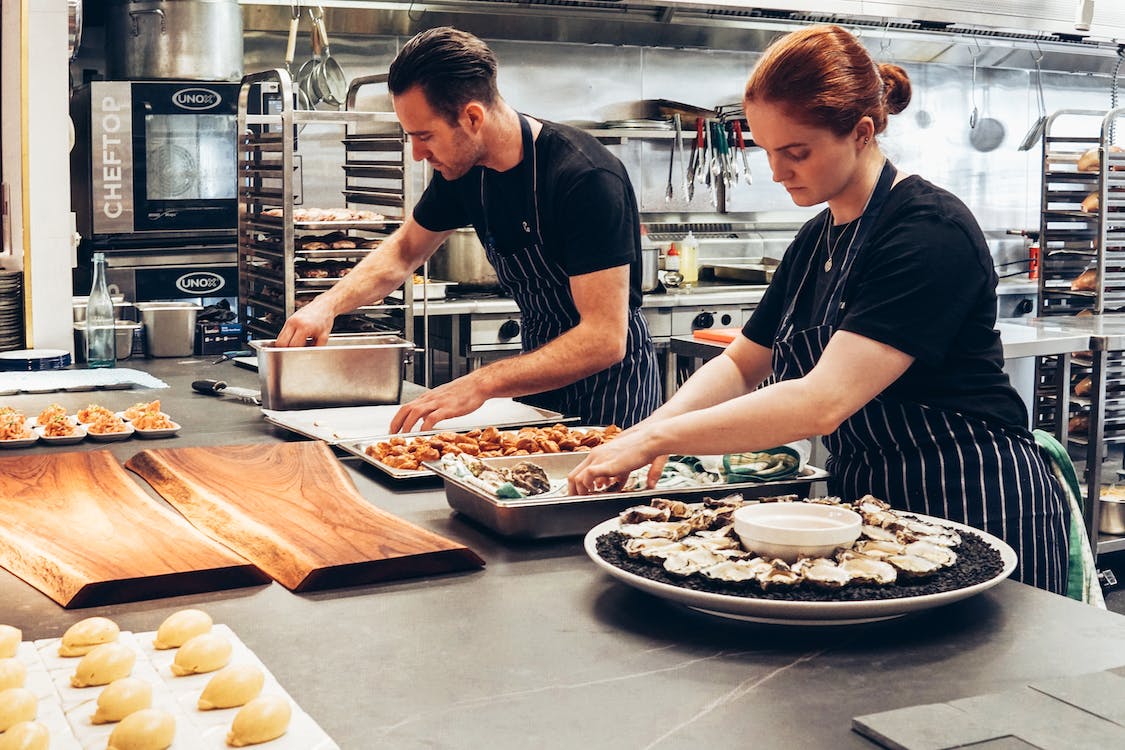 Concrete For Commercial Kitchen Countertops
Concrete is extremely durable, and a tough material that makes it a great choice for commercial use. Most contractors strengthen the mix by adding glass fibers, making the counter both exceptionally strong and lightweight. However, concrete does stain easily meaning it needs resealing and waxing on a regular basis, and if your kitchen is prone to spillages, can be time-consuming and costly.
Stainless Steel For Commercial Kitchen Countertops
Stainless steel countertops are perfect if you're trying to achieve a contemporary or industrial look for your kitchen. They're incredibly durable and heat-resistant making them ideal for commercial kitchens. It does scratch however, but if you're looking for the industrial look then you may not mind. But maybe about cutting anything on your countertop, as it can damage the stainless steel permanently.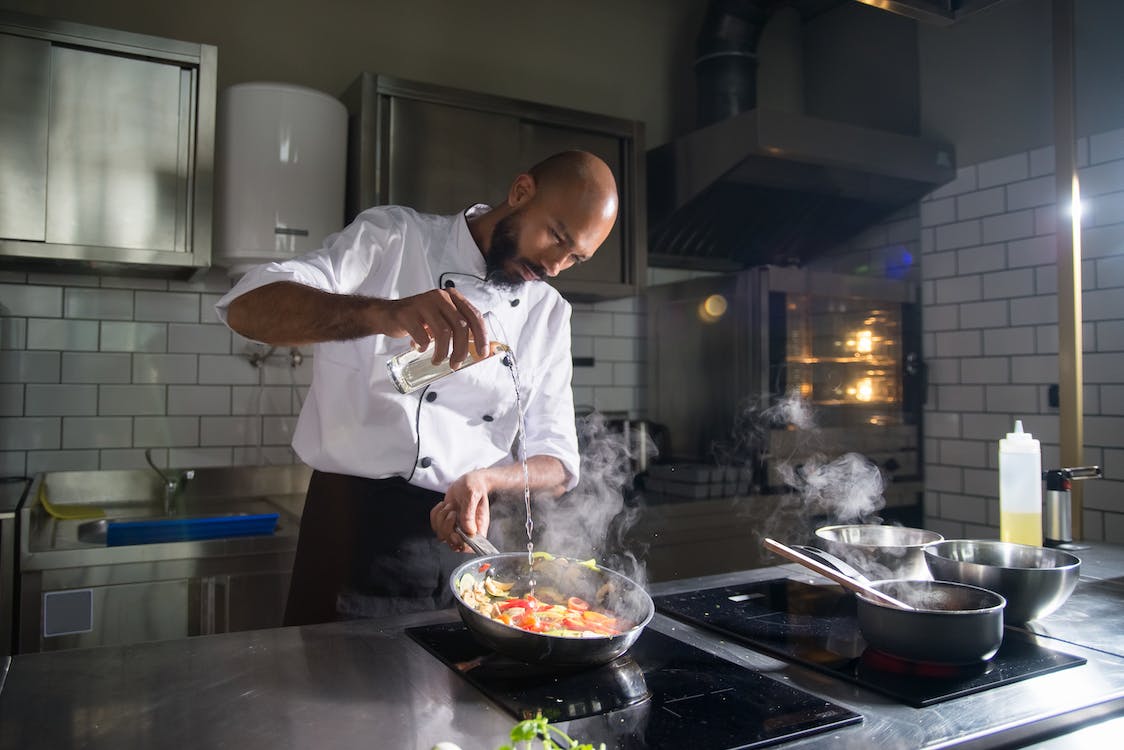 Laminate For Commercial Kitchen Countertops
Laminate kitchen countertops are a common material in commercial kitchens due to its low cost and easy set up. It's durable and hard-wearing, making it a great option for commercial use. If you are buying laminate for commercial kitchens, then make sure you buy matte as this is the general-purpose option for laminate.Like many cheaper options, laminate does have some negatives, such as peeling, burning on super hot surfaces and scratching which are all risks in a commercial kitchen. So, although it may be cheaper to buy, the upkeep and possible replacement makes it more expensive in the long run.
Have you decided on your ideal commercial kitchen countertop?
We hope this guide has given you some insight for your next commercial kitchen design and the best material for commercial kitchen countertops - depending on your needs. For more information about the different FENIX innovative surface materials we offer and how they can transform your business, check out our commercial inspiration page. And while you're there, why not order a free sample?